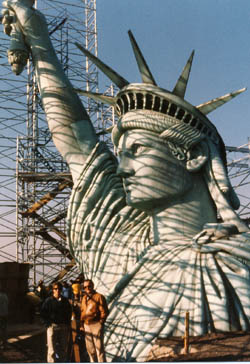 Hola eses! Mi llamo es Bobby Peru, and yo soy one proud hombre today!

That's right amigos. Soon I am going to be able to sing Le Banner de la Spangled Star in my native tongue because some of my favorite pop stars are recording a new version of it en Espanol!

Aiyeeeeee!!! I can hardly contain my essitement, mang.
Joo guys are all gonna have to learn it eventually so here is you big chance to get an early start on it.
Hey, if you don't know what I am talking about. Let me show you a little bit of a news story about it. It's written in America's second language, English, so that all of you gringos can understand.
NEW YORK (AP) _ Mexican pop diva Gloria Trevi, Puerto Rican reggaeton star Don Omar and other Latino artists have recorded a bilingual version of "The Star-Spangled Banner" in a show of support for migrants in the United States.

The Latino-oriented record label Urban Box Office (UBO) said Friday it will put the new Spanish-English version of the U.S. national anthem on the market Monday to coincide with the U.S. Senate's restarting debate on immigration legislation.

The recording, dubbed "Nuestro Himno" or "Our Anthem," is set to "urban Latino rhythms" but respects the song's traditional structure, UBO said in a news release. Each artist decided whether to sing in Spanish or English.

The record will be sold for $10, with a portion going to Washington-based National Capital Immigration Coalition, UBO said. Other artists on the record are Ivy Queen, Reik, Voz a Voz, Franco De Vita and Kalimba.
El Presidente' de la Urban Box office had this to say about it. "We decided to re-record 'The Star-Spangled Banner' to show our solidarity with the undocumented migrants. Today we are Americans and 'The-Star Spangled Banner' represents everything to us."
That's right. And what better way to show that something means everything to you than making a completely different version of it?
So just like the last Prizes that are Completely Random and Amazing, all you have to do to get a copy of "Nuestro Himno" when it comes out is to send a page to a friend and maybe you will be the Lucky Winnarr
----------

Whenever you see this link:

That is potentially where you can win this piece of C.R.A.P.
Just send a page from Fugly to a friend and you could be our next big winnarr. That's all there is to it.
Like always, if you win, you'll be taken to the winning number confirmation page where there will be instructions on how to claim your prize.