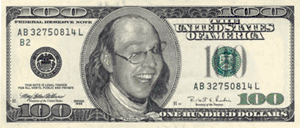 BREAKING NEWS

NEW YORK (AP) -- Lottery machines cranked out tickets at a dizzying rate Tuesday as the multistate Mega Millions game drew bettors with a jackpot estimated at a record $370 million.

Because of the huge prize and publicity, the 12 participating states agreed to move Tuesday night's drawing from the game's usual home in Atlanta to New York's Times Square...

We sent Harlan to the store with a crisp, new, one-dollar bill and he has returned with what might be a Mega Millions ticket that is worth 370 MILLION DOLLARS and YOU might be the lucky person who receives that ticket in the mail if you happen to click on the Completely Random Amazing Prize link in this, our latest C.R.A.P.™ game!

We have sealed this potentially winning ticket in an offical no. 10 pull-and-seal, security tint, business size envelope, custom designed for highly sensitive documents like the one that WE WILL SEND to one lucky Fugly viewer, if he or she happens to be the one to click on the winning C.R.A.P.™ link!

THIS could be your lucky day!

Don't know how to play with our C.R.A.P.™? Well FEAR NOT! Just click on the C.R.A.P.™ Rules and Frequently Asked Questions to learn how easy it is for you to WIN WIN WIN!!