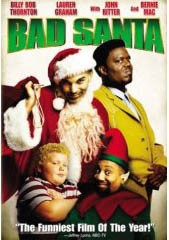 This is one of the funniest movies I have ever seen. Probably because I can relate to Billy Bob Thornton's character so well.

If you haven't seen it, now is your chance. We're giving away this DVD and all you have to do to win it, is click a link.

Since people have had such a hard time finding our winning links, we're going to make it easier. This time, instead of stumbling on to a random link, we're going to just tell you where it will be.

That is potentially where you can win this piece of C.R.A.P.

Just send a page from Fugly to a friend and you could be our next big winnarr. That's all there is to it.

Like always, if you win, you'll be taken to the winning number confirmation page where there will be instructions on how to claim your prize.

We'd really like to hear from you too. Do you think this is a better idea than the random link method? Does anybody even pay attention to these Completely Random Amazing Prizes anyway? Send us an email and let us know what you think.