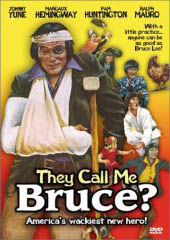 Last week's prize went so fast that we're going to do the same thing again this week.
There is a company that we've been talking to who has tenatively agreed to sponsor this contest and they say they will send us all sorts of DVDs, Games, Books and other stuff. That means we're hopefully going to have much nicer C.R.A.P.™ to give away very soon.

This week, we're going to give away another of our all time favorite DVDs.

They Call Me Bruce? - starring Johnny Yune, Margaux Hemmingway, Pam Huntington and Ralph Mauro.

Think of it as Jackie Chan meets Austin Powers, and where he dosn't know martial arts so well.
Just like last time, all you need to do to win is send a page to a friend.

Whenever you see this link:

That is potentially where you can win this piece of C.R.A.P.

Just send a page from Fugly to a friend and you could be our next big winnarr. That's all there is to it.

Like always, if you win, you'll be taken to the winning number confirmation page where there will be instructions on how to claim your prize.

We'd really like to hear from you too. Do you think this is a better idea than the random link method? Does anybody even pay attention to these Completely Random Amazing Prizes anyway? Send us an email and let us know what you think.