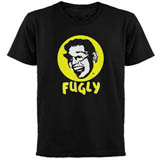 The original Fugly T-shirt. Not seen since 1998!

It just doesn't get any C.R.A.Ppier than this.

These shirts have not been made since we first started this site, years and years ago and this is your ONLY chance to own one...unless you buy one here.



Whenever you see this link:

That is potentially where you can win this piece of C.R.A.P.
Just send a page from Fugly to a friend and you could be our next big winnarr. That's all there is to it.
Like always, if you win, you'll be taken to the winning number confirmation page where there will be instructions on how to claim your prize.