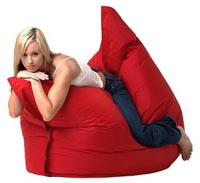 I'm about to change the way you think about urban, metrosexual, slacker furniture.
We received an email not too long ago from the people at Sumolounge.com. Sumolounge manufactures and sells two products, The Sumo Omni and the Sumo Otto. They are, for all intents and purposes, beanbag chairs.
The people at Sumolounge were kind enough to send an Omni and an Otto to us here at Fugly and as soon as I pulled one out of the box I could tell that this thing was not just another beanbag chair.
Beanbag chairs are something you find in dirty apartments with bong-water soaked carpet. Beanbag chairs reek of patchouli and stale smoke. Beanbag chairs are usually upholstered with shiny, stick-to-your-skin, faux leather plastic or some form of paisley print. Beanbag chairs are sat upon by skinny, boneless girls named Fawn, or Sunflower, or Moonunit. Beanbag chairs are almost always found whenever there is a pot bust.
These things are different. These things are like actual pieces of furniture. I know because I've been sitting in the one they sent to me for 4 days now, smoking, spilling beer and bong-water all over it and beating it with the limp, lifeless body of some hippie girl named Sunflower** and it's still good as new.
It's made of some kind of high-tech, anti-hippie material that won't absorb stuff no matter how hard you try.
The Sumolounge Omni is more suited for hot, Playboy Playmates than it is for hippies, anyway.
If you don't believe me, just ask Evil Sarah. The first time she passed out on one, she says it was like she was in Heaven.
I swear to God, if it was snowing outside, you could take this thing to a hill and use it as a sled.
It's that tough.
Anyways. Why am I telling you all this? Because one of you lucky people out there will get one free too, and all you have to do to win it is, as usual, not a damn thing.
Just like any other Completely Random Amazing Prize here at Fugly.com, just go about your business and keep in mind that any link you click on could take you to a C.R.A.P.™ winning number page where we will give you instructions on how to claim your free Sumolounge Omni. Check out the C.R.A.P.™ FAQ and for more info on the Sumolounge Omnie and Otto, make sure to take a look at Sumolounge.com
** not really