Fugly C.R.A.P.

™




Completely Random Amazing Prizes

™




---for---


DECEMBER 10, 2004

Jeff
HUH HUH...HUH HUH HUH.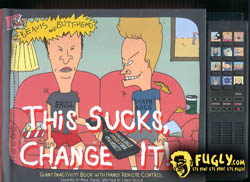 MTV's Beavis and Butthead - This Sucks, Change It - giant activity book with handy remote control.

Annoy the living crap out of your friends and family this Holiday season with this interactive picture book, complete with REALLY LOUD sound effect remote control.

Guaranteed domestic violence complaint or triple your money back!

Remember the C.R.A.P.™ rules, and good luck!

Didn't win? you can always buy one of your own here.

C.R.A.P.™ Stats:
We inserted the links on Monday 12/10/2004 at 12:00 PM