HEY BUDDY. CAN YOU SPARE ANY GELT?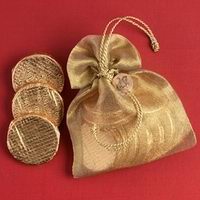 What do Jews love more than anything else in the world? I'm sure you know. Just think about it for a second. What is the one thing that you always associate with Jewish people? Dont' be afraid to say it. It's really ok. Those kinds of stereotypes are there for a reason. What is it?

That's right! Chocolate! Jewish people LOVE chocolate so what better prize could we possible have than this bag of Milk Chocolate Coins?

Hanukkah kicks so much ass, I don't even know how to describe it.

Remember the C.R.A.P.™ rules, and good luck!