Fugly C.R.A.P.

™




Completely Random Amazing Prizes

™




---for---


DECEMBER 7, 2004

Jeff
Jewish C.R.A.P.™.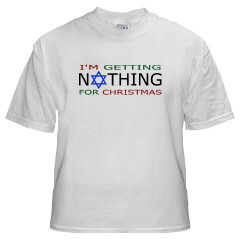 Being Jewish has never been easy and it only gets harder this time of year. Show those pesky Christians what you think of their stinking holiday and, as a bonus, complain a little at the same time!

We're giving one of these fine Fugly T-Shirts away to one of you lucky boys and girls and guess what, you don't even have to be Jewish to win!

Only one person will win a free one, but you can always buy one for yourself at the Fugly Sotre.

Remember the C.R.A.P.™ rules, and good luck!
C.R.A.P.™ Stats:
We inserted the links on Monday 12/7/2004 at 6:00 PM EST