Ahh Halloween. Either you love it or you hate it… or you feel somewhat indifferent about it. Or something.

Hey! How would you like a chance to own Harlan Felcher's 2004 Halloween costume!?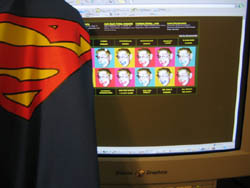 First, let us give you a little bit of background information of how you can be the proud owner of what , much like the Hope Diamond or the Shroud of Turin, is sure to become a priceless piece of history.
You see. Physically, Harlan is a grown man. Just ask any of our female interns and they'll tell you with absolute certainty that he is fully developed.
He's still a kid at heart though. And by, "kid at heart" I mean that, for whatever reason, and I'm sure there are many, his emotional development literally stopped somewhere at about age thirteen.
He's a real pain in the ass, is what I'm trying to say.
Like any 33-year-old man with the mind and compulsions of a pubescent teenager, he loves to go trick or treating on Halloween.
He'd actually like it if we allowed him to trick or treat pretty much any day of the year and I don't think he'd be embarrassed one bit to dress up in whatever ridiculous costume he wanted in the middle of July.
We try and contain this all year but on Halloween, Harlan gets to dress up and go out there with the rest of the children and enjoy this time-honored tradition.
In years past, Harlan has enjoyed dressing in some pretty strange outfits.
One year he went as a mailbox. Another year, a package of paper towels and five years ago, in October 1999, when Fugly.com was in it's early stages, he insisted that he be allowed to dress up like a pile of rocks.
It had something to do with the Blair Witch Project being so popular at the time or something. I don't really know to tell you the truth but he really pulled it off.
Last year, Harlan was saddened by the death of one of his favorite actors, the great Christopher Reeve.
Christopher reeve died on October 10 and Harlan was so affected by this that he just couldn't bring himself to wear the costume be bought just days earlier.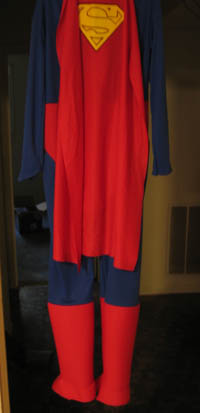 Let's just say that Harlan is a man with many challenges in life. Since Harlan likes to ride around in his electric wheelchair (for no other reason than that it makes a "funny whirring noise" when he "goes really fast"), we didn't think that it was such a hot idea to dress him up like Superman and let him do that. Especially three weeks after the death of such a beloved actor turned activist.
I think people might have gotten the wrong idea.
So this Superman suit has been hanging in the closet here for over a year now. It has never been worn and it's in perfectly good shape.
We wanted to dress Harlan in it and take some pictures of him eating his Halloween candy but he ate the entire bag about 20 minutes after coming home last night and, with so much sugar coursing through his system, he went completely berserk and ran screaming into the woods.
He's not back yet.
So here it is, Harlan's Superman Suit from Halloween 2004 and it can be yours if you're the lucky Fugly surfer!
Make sure you check out the Completely Random Amazing Prize rules and Frequently Asked Questions if you're unsure how to play with our C.R.A.P.™
Congratulations to Ryan from Canada, last weeks C.R.A.P.™ winner.
Good luck!