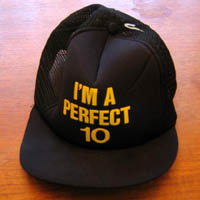 I'm about to reveal something to you all that is of enormous sentimental value to some people around here. Namely, my father.

This thing. This item that I'm about to give away… This family heirloom, if you will, is rumored to be….

THE REASON FOR MY VERY EXISTENCE

You see, legend has it that when Otis Felcher, my father, was courting a young woman named Martha; a woman who would later become my Mother, he wore this hat on their very first date.

Martha, needless to say, who didn't come from the same side of the PLANET as Otis, much less the proverbial "side of the tracks" was completely horrified to be out on the town with a man wearing something like this.

They pointed fingers and watched in horror.

Mothers clutched their children.

Men cringed and young women swooned and Otis laughed like a maniacal mental patient each and every one of the no less than 75 times he flipped the brim of his hat to reveal the joke that was underneath to literally every single person who happened to glance in his direction.

Some people didn't even see the front of the hat and had no idea what was happening as Otis ran from across the street, his eyes fixed on them like a hawk, only to get within inches of their face, the underside of the brim of this sweat-soaked baseball hat the only thing separating them from the horrible smell of bourbon and rotting teeth as Otis gasped and choked on his own laughter.

I've heard that somebody in the crowd actually did call the police but that, since Dad hadn't made physical contact with any of the passers-by they couldn't technically call it assault.

Later on that night they went to a movie.

Otis tried to have sex with Martha in the back seat of his car while it was parked atop a hill overlooking Baltimore but Martha kept her virtue.

Actually, Martha freed herself from the duct tape that Otis had tried to bind her feet with and kicked him squarely in the jaw.

She managed to open the car door with her mouth and ran, screaming for her life down that hill, all the way home.

So you ask yourself, how does a failed attempt at date-rape and an old, sweaty, disgusting baseball hat have anything to do with the reason your parents got married?

Well I'll tell you.

You see, Otis is smart. Well. Maybe smart isn't so much the word as it is, "wiley".

He's a clever old guy and he knew that since Martha outweighed him by close to 110 lbs, he was going to have one hell of a hard time scoring with her that night. After all, every other sexual encounter he'd ever had in all of his 17 years was had was by force.

Both of them.

Otis claims it was all planned from the get go.

He says that he wore that hat on purpose and before picking Martha up, he inserted a rolled-up pair of tube-socks into his trousers so, if anybody were to come into contact with his groin that evening, they'd leave with the impression that Otis was packing some pretty heavy equipment down there.

The simple fact of the matter is, Martha was intrigued by the combination of events.

Maybe Martha didn't come into close proximity with Otis' trousers that night but Otis sure as shit put his trousers in close proximity of Martha over and over again until she finally kicked him in the face and managed to free herself.

Late that night, Martha had a dream. Vivid, colorful dreams, full of baseball hats and tube-socks and new and wonderful feelings that Martha had never felt before.

Strange as it may seem, Martha just HAD to see Otis again.

One thing led to another and 4 months later, Otis and Martha were married.

Two months after that, a young Martin Felcher was born.

And now. A mere thirty some odd years later, I am giving away this piece of history to some random Fugly viewer who happens to stumble upon the winning link on this site.

If you're not familiar with our Completely Random Amazing Prizes, make sure to read the C.R.A.P.™ rules first.

Good luck!