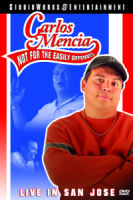 Carlos Mencia's new television series, "Mind of Mencia" debuts on Comedy Central one month from today, July 6th 2005. His first DVD, "Carlos Mencia - Not For The Easily Offended - Live in San Jose will be available on June 14th.

What does this have to do with anything? Well, we'll tell you.

We haven't run our Completely Random Amazing Prizes contest in quite a while but when we got ahold of FIVE copies of this unreleased DVD along with a portable DVD player, we figured those would make perfect prizes.

All we have to do is to tell you how awesome and funny Carlos Mencia is, even though we have no idea if that's true or not since we don't know who he is.

The first five people that find the Completely Random Amazing Prize link will get a copy of Carlos Mencia's upcoming DVD and the 5th one will also get a brand new Portable DVD Player to watch it on!

Take a look at Carlos' promotional video HERE and if you haven't heard of him yet, you can check out his bio on THIS PAGE

The Completely Random Amazing Prize rules are simple. We replace one of our usual links with a link to a Completely Random Amazing Prize winner page. Absolutely ANY clickable part of Fugly.com is a potential link to the winner page. If you click on the link, instead of your usual destination, you'll be taken to a Completely Random Amazing Prize winner confirmation page. On that page will be the Completely Random Amazing Prize winning number.

Get the details in the Completely Random Amazing PrizeT Frequently Asked Questions page.

Good luck!



C.R.A.P.™ Stats: