The C.R.A.P.™ continues to flow!


Before we get into too much C.R.A.P.™, I need to preface things a bit with a story that started over four long months ago. The great Red Light Camera Experiment has finally come to an end and I can safely say, without any reservations what-so-ever that I have beaten the system.

That's right! You might remember back in June I was complaining about how red light cameras were bleeding me dry. On June 18, 2004 I vowed that I would find something. Some product. Some device. Some way to screw the man. Some way to screw the entire SYSTEM, and I did..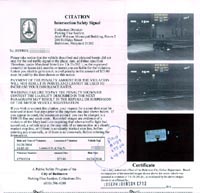 On June 18 2004, I paid the last Red Light Camera speeding ticket I will ever pay. That's not to say that's the last time I'll blow through a red light at 4:00am, but it will most definitely be the very last time that the state of Maryland will get a glimpse of my license plate while I do it.

Here's the last ticket I paid, on June 18.

After I wrote that check to The City Of Baltimore on June 18, I began to research what I could do to stop these evil machines from robbing me again. I thought I'd have to try hundreds of different products but I hit the nail on the head on my very first attempt.

I bought a can of this Spray, put it on my license plate, hopped in my truck and ran a red light. I needed to see if it would work.

This was near the end of June and I know it can take a few weeks for those tickets to come in the mail so I waited. I waited two full months, until the end of August before I felt comfortable that I was never going to see the ticket.

One isolated incident isn't enough so I had to repeat the experiment. During the last week of August, I ran a total of SIX separate red lights at different locations around Maryland, each was equipped with a red light camera, just waiting to snag my license plate number. I knew this was a big risk but I had to know if I was safe.

I'm happy to report that it's been two solid months since that day and I have not received a single ticket, nor have I been pulled over and issued a repair order to remove any screen over my license plate that will block these red-light cameras. There is no screen! It's just this crazy invisible spray!

I'm not advocating speeding or disobeying traffic signals but, on the off chance you accidentally run a light, wouldn't you feel better knowing you won't get screwed for $75.00?

With all that said, we figured it would be a good idea to give some of this stuff away and so, as part of this week's round of Completely Random Amazing Prizes™, three lucky people will each get a can of this Photblocker Spray. All you have to do to get it is hit the lucky link on our site. Check out the C.R.A.P.™ F.A.Q. for more details.

BUT WAIT, THERE'S MORE!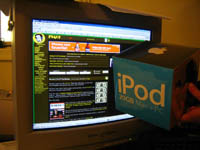 We have one more iPod left to get rid of.

With all of the "Free iPod this", and "Free iPod that" that's been going around these days, we fell for it. We signed up for a free 20GB Apple iPod and just last week it arrived in the mail. We figure what the hell? Why not give it away, right?

Want a Complimentary Apple iPod 40? Get one here by simply giving them your ZIP code. No joke, we got ours.

That's FOUR prizes this week! Not bad!

As always, read the C.R.A.P.™ F.A.Q. for details and good luck!