Fugly C.R.A.P.

™




Completely Random Amazing Prizes

™




---for---


AUGUST 31, 2004

Martin
OBEY!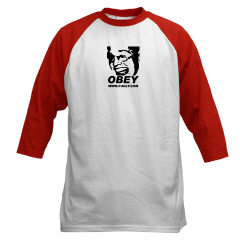 They're back, folks. Fugly T-Shirts, and here's your chance to get a free one.

We're pretty broke after giving away expensive prizes like iPods, so we had to look around the offices for something a little bit cheaper.

You can always buy one of these for yourself at the Fugly Store or, you can win one of these pieces of C.R.A.P.™ here!

make sure you read the rules if you don't know how to play.
C.R.A.P.™ Stats:
We inserted the link on Wednesday 08/31/2004 at 3:00 PM EST

Congratulations to:



Winner: E. J. of Washington DC.
(needed a shirt)