Fugly C.R.A.P.

™




Completely Random Amazing Prizes

™




---for---


AUGUST 23, 2004

Martin
I POD, YOU POD, WE ALL GET A FREE IPOD!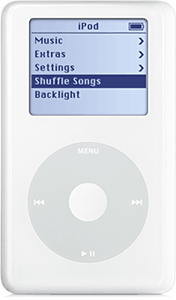 The things seems to be pretty popular and, since not all of you will be able to get one from that site, we have three of them that we will be giving away. They are all the 20GB version and they retail for about $299.00.

That's right. For those of you who can add, that means we spend about a thousand bucks to give away to you chuckleheads.

Here are the specs on the 20GB iPod:
5.6 ounces
2.4 x 4.1 x .57 inches
Apple Earphones
AC Adapter
FireWire cable
USB 2.0 cable

Good luck, and happy clicking! Make sure you read the C.R.A.P.™ Rules so you know what you're doing.
C.R.A.P.™ Stats:
We inserted the links HERE, HERE and HERE on Wednesday 08/24/2004 at 3:00 PM EST

Congratulatins to:

Winner 1: Congratulations to Jeremy F of New York, NY!
Winner 2: Congratulations to Adam F. of Seattle, WA
Winner 3: Congratulations to David M. of LaCrosse, WI.

Photos of our winners coming soon (hopefully).