Fugly C.R.A.P.

™


Completely Random
Amazing Prize

™



----------For

----------


Wednesday
November 6, 2002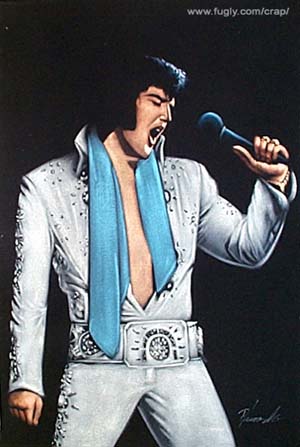 This is a painting of Elvis on black velvet. This was owned by Elvis Presley himself and has chubby, bacon grease and mayonnaise fingerprints on the right thigh of the depicted Presley.

We're not claiming that these fingerprints actually belong to the late King of Rock and Roll, but hey, I bet you could convince some idiot on Ebay that they are. Wink wink.
C.R.A.P.™ Stats:
We inserted the link HERE Wednesday 11/06/2002 at 11:00 AM EST
We received the winning confirmation number Monday, 11/11/2002 at 4:45PM EST


Congratulatins to:

DARRYL FARIOSKI, of Springfield, VA.