Fugly.com
C.R.A.P.

™


Completely Random
Amazing Prize

™


----------For

----------


Wednesday
January 3, 2001
C.R.A.P.™ Stats:
We inserted the link Friday 1/3/2001 4:00 PM EST
We received the winning number (BGIHRIAYPSSUY) Monday 1/8/2001 at 2:38 PM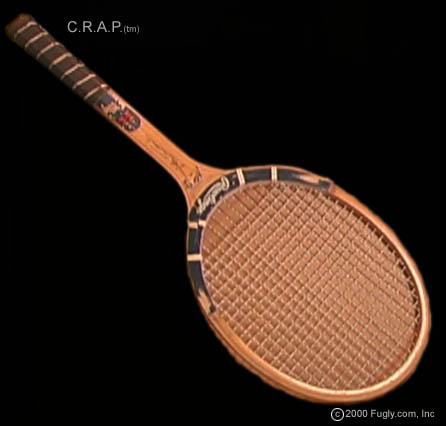 Beleive it or not, back in her younger days, Martha Felcher was quite the Athlete. As a matter of fact, she was captain of her High School tennis team.

This racquet was used by Martha to win the State Championships in 1968 and later in 1987 to beat her Husband, Lester Felcher into a coma that lasted for 6 months.

Ahhhh, what memories. There's still a little bit of old Lester's blood on the grip and some shards of his eyeglass lense in the wooden frame.

Congratulatins to:
Nathan Brimmer, from Syracuse, NY

Our Winnarr's photo coming soon!