Fugly.com
C.R.A.P.

™


Completely Random
Amazing Prize

™


----------For

----------


Friday
December 22, 2000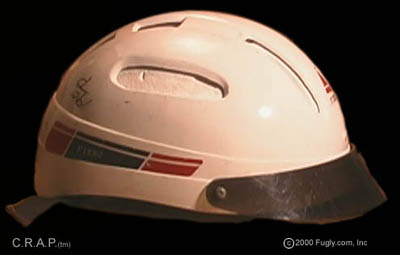 This is another of Harlan's "safety" helmets. He had to wear one of these things every time he rode in a car or in the short, yellow bus that used to pick him up and take him to school. It's still in pretty good shape except for a few nicks and scratches from him throwing a fit and smashing his head against the window of the bus every time he saw a pretty girl on the sidewalk.

I don't know if we ever mentioned this before or not, but Harlan is tremendously successful with the ladies. I have no idea why.

Maybe it's the helmet.