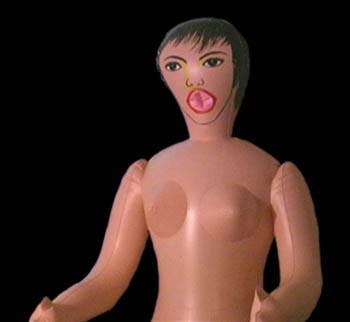 Oh yeaaaaahh. Harlan's first love.. This is Jessica. Jessica is one of TWO
inflatable love dolls that account for 100% of Harlan's sex life.
Jessica is made in China and the quality craftmanship really shows.
She's
5'2" of fun
and she's looking for a date.
From her
life-like eyes
and enchanting smile, to her
THREE inputs
, she's
kept busy and Harlan out of our hair for years.
Her counter part is named Laquisha. Both of these lovely ladies have been
used extensively and are just full to the brim with Harlan's DNA, just in case out lucky winnarr works in a lab some place and wants to make a clone.
Hey you never know.
What a great Holiday gift!