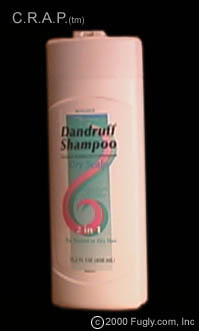 Martha. Felcher's Dandruff Shampoo. Hardly used.
You can see her fat fingerprints in some of the dried up shampoo on one side of the bottle. Yuck.
C.R.A.P(tm) Stats:
We inserted the link HERE at Mon 09/18/2000 09:30 AM EST
The winning number was sent in Thu 09/21/2000 11:35 AM EST



Congratulations Nig Rosewater,
from Mongomery Alabama.

Winner Photo coming soon...