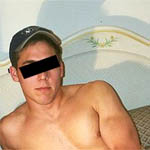 Nothing makes us happier than receiving email that was meant for someone else. Nothing, that is, except when we reply to it, and the dumbass on the other end is too stupid to realize that he's not really corresponding with his intended recipient.

Young Zachary Martin, from Lockhart High School in Texas, sent email to his friend, Michelle. Unfortunately, we got it first.

Here's what happened...