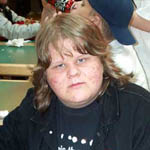 This one is just a little bit more complicated than the rest. I really didn't think we were going to pull this one off, but it actually worked.
Madamme Borkofski and Johnny Cheesedog sometimes go into Teen-Chat rooms and just talk to each other. Madamme Borkofsky pretends to be really interested in Johnny, and naturally, people start to wonder how a geek like this even knows a hot piece-of-ass like Madamme Borkofski. They're even more mystified that he's able to get her interested in him.

He instantly becomes the hero of whatever horny teenager happens to be there, watching the whole thing. Naturally, the horny teenager is eventually going to come to Johnny Cheesedog for a little advice… Little does he know.
Madamme Borkofski and Johnny Cheesedog are from Fugly.

The innocent victim in all of this is bandleeder619.
HERE's what happened