Fugly News
---for---
January 15, 2001


January 2001

S

M

T

W

T

F

S

-

1

2

3

4

5

6

7

8

9

10

11

12

13

14

16

17

18

19

20

21

22

23

24

25

26

27

28

29

30

31

-

-

-
I Had A Dream - Monday January 15, 2001 - by: L T Jackson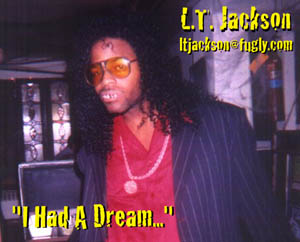 It be very rare, when I gets a chance to use a P.C., But Martin is passed out drunk, and Harlan is playin' Super Mario Bro-hams with "Speedy". So Here Is my chance to spit in the white-devil's eye.

I have always been followin' Dr. Kings dream of color TV's and gold fronts but unfortunately, I been hoodwinked by the white man and his crack rock. The white devil has put some voodoo on my brain, makin' me crave it like mad and I be losin all my bling bling know-what-im-sayin?

So today bein' MLK's birthday, I think we should follow his example, by draggin' the white man out of his house, and beatin' him in the street with a brick! MLK would have wanted it that way. MLK also would want you to send L.T. some money so send all of your contributions (in 20 dollar increments) too this P.O. box. I also accepts food coupons, and malt liquor.

I intend to celebrate this here holiday with a '2 piece and a biscuit', and a fine bottle of wine I bought at that little chink mart on the corner. What ever you do, don't be tellin' Martin I put this on his page. Aiight, muffuggahs?

P.S. Don't Hate the playa, hate the game.